AORUS NVMe Gen4 SSD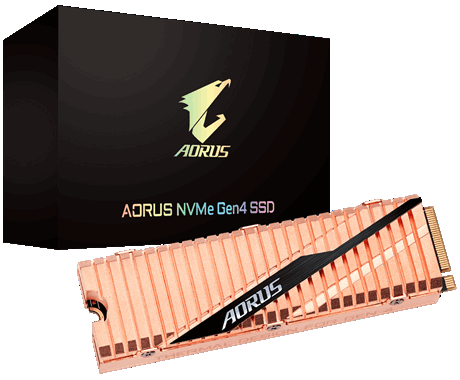 Form Factor: M.2 2280
Interface: PCI-Express 4.0×4, NVMe 1.3
Sequential Read Speed : Up to 5,000MB/s
Sequential Write speed : Up to 4,400MB/s
Wear Leveling, Over-Provision Technologies
TRIM & S.M.A.R.T Supported
Full-Body Copper Heat Spreader
Warranty: Limited 5 Years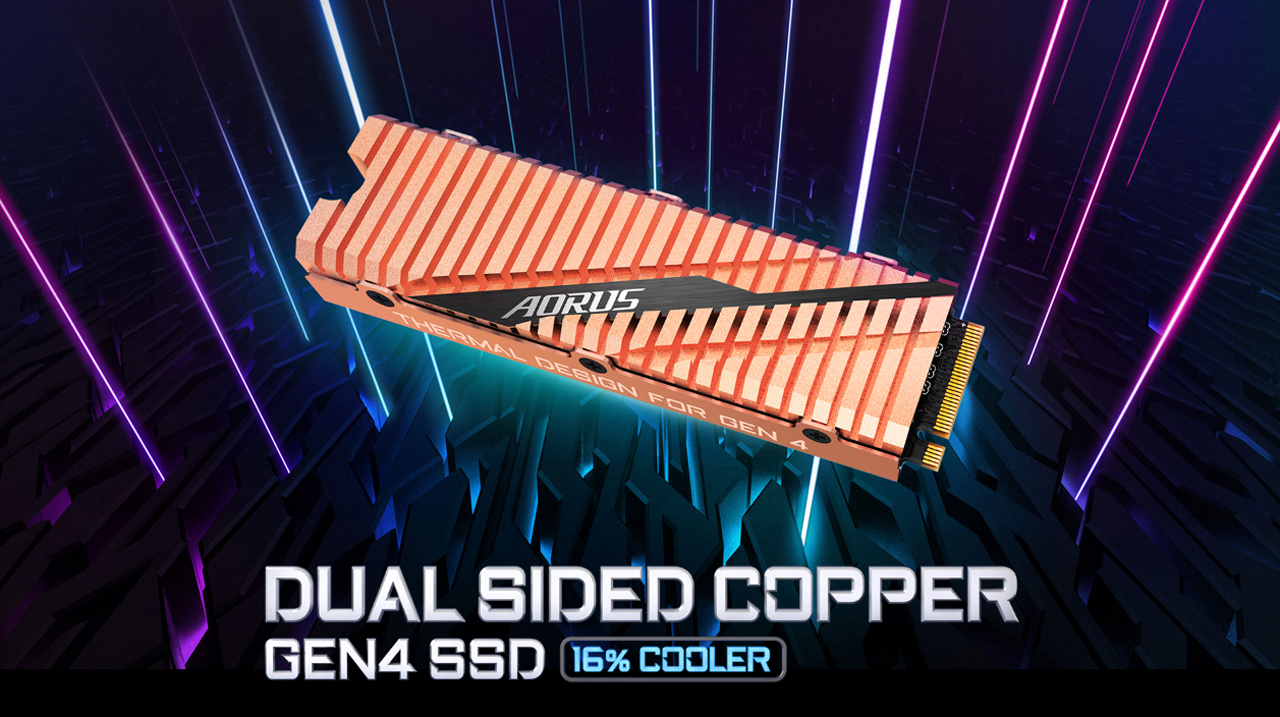 World-First PCIe 4.0 x4 Controller
This world-first PCIe 4.0 x4 Phison PS5016-E16 controller is made by 28nm manufacturing technology. The advanced fabrication process ensures PS5016-E16 has enough compute power for ECC processing when adopting the latest 3D TLC NAND flash. PS5016-E16 also features eight NAND channels with 32 CE targets, DDR4 DRAM caching, and a PCIe 4.0×4 interface. As for features, the chip supports the NVMe 1.3 protocol, LDPC error correction and Wear Leveling, Over-Provision technologies to improve reliability and durability of SSDs.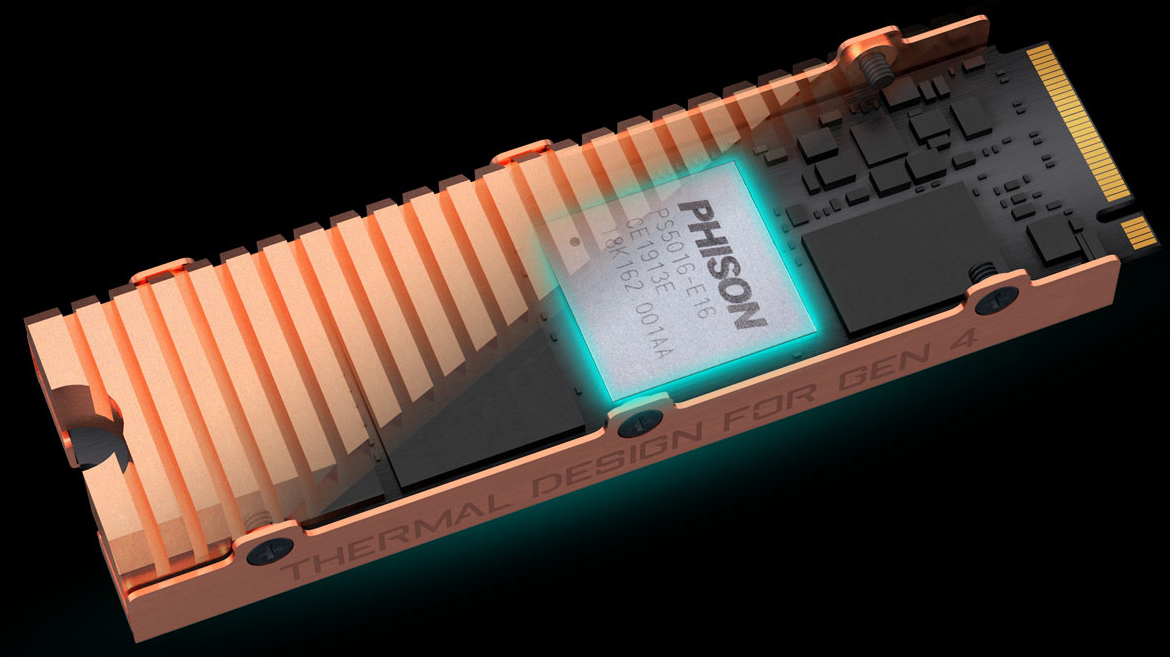 PCIe 4.0 x4, NVMe 1.3 Interface
DDR4 DRAM Cache
8CH with 32 CEs
Phison 4th Gen LDPC & RAID ECC
Support Pyrite
Heat Spreader for Controller
NAND Flash Selected for High Quality and Performance
TOSHIBA BiCS4 96 Layers 3D TLC (800MT/s)
Toshiba BiCS4 NAND Flash optimizes circuitry and architecture by increasing to 96 layers for higher storage space per unit area. 800MT/s throughput on the AORUS NVMe Gen 4 SSD far exceeds that of PCIe 3.0×4 devices for superior storage performance.

Xtreme Storage Performance
With the new PCIe 4.0 controller, AORUS NVMe Gen 4 SSD delivers blazing speeds: up to 5,000MB/s for sequential read, and up to 4,400MB/s sequential write. Sequential Read performance of PCIe 4.0 SSDs is up to 40% faster than PCIe 3.0 SSDs. Get ready to enter the next generation of computing with faster and smoother, gaming, streaming and graphics-intensive rendering.
Sequential Read Speed


Full-Body Copper Thermal Solution for Outstanding PCIe 4.0 SSD Performance
The full-body copper heatsink takes into account the heat transfer from key components on both the front and back of the device, the controller and NAND Flash. Full copper heatsinks have 69% higher heat-transfer capacity compared to aluminum heatsinks giving AORUS NVMe Gen4 SSD the best heat dissipation for read/write performance.
Thermal Conductivity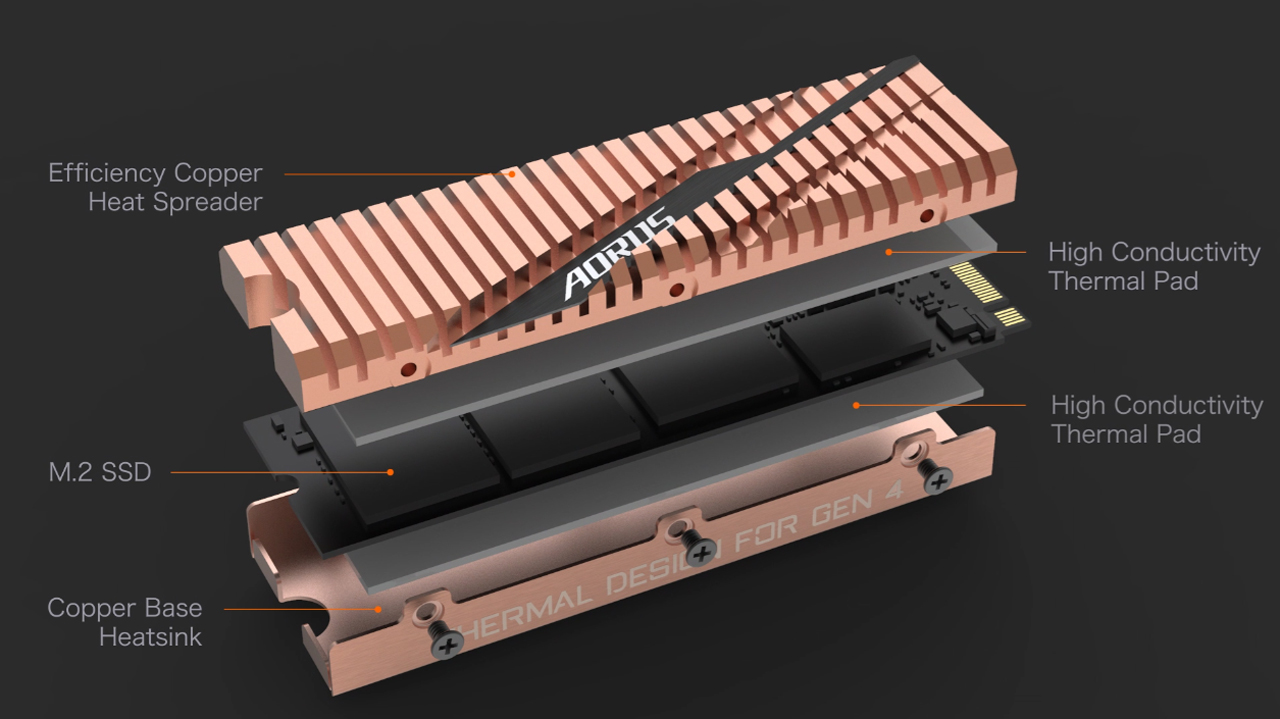 Efficient Copper Heat-Spreader Design
Compared with a plated M.2 heat spreader, the new efficient copper heat spreaders with 27 fins add more surface area which improve thermal transfer from heating sources to obtain thermal balance sooner. Moreover, the optimized fin-array design does great heat exchange with any direction of airflow. The unique design makes sure key components of PCIe 4.0 SSD to keep suitable working temperatures under ultra-high transfer rates.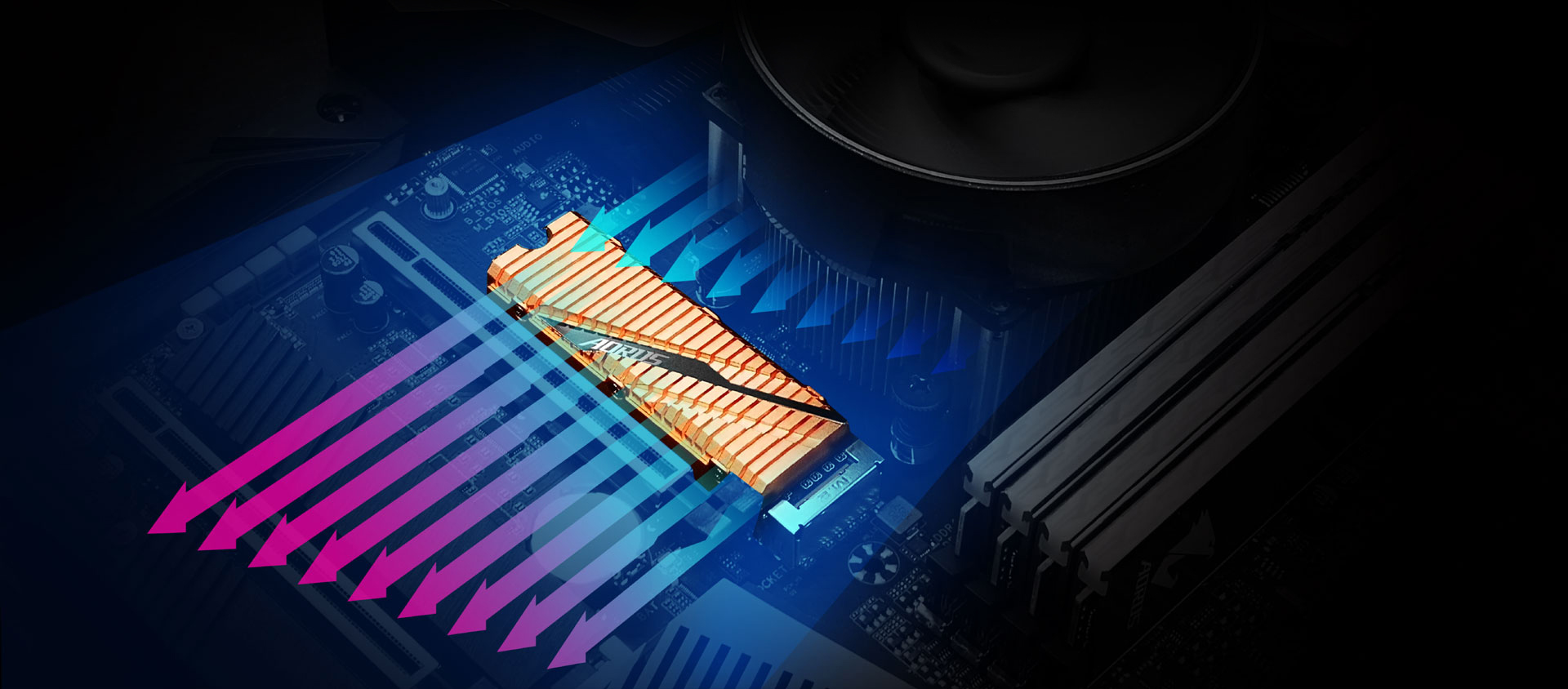 Why is it important to keep SSDs at lower temperatures?
Higher working temperature may cause data loss. The degradation factor of data loss could be a hundred times higher.
With full-body copper heat spreaders, the AORUS NVMe Gen 4 SSD can operate at lower working temperatures to improve data storage reliability. Furthermore, SSDs can deliver extreme performance for longer periods.

*The test result is based on internal testing for reference onl, actual performance may vary under different circumstances.
SSD Tool Box
The newly updated SSD Tool Box is a software that gives users an overview of the SSD Status and various aspects such as model name, FW version, health condition and sensor temperature. Moreover, users can clear all the data with the Secure Erase function. You can download the SSD Tool Box from the link.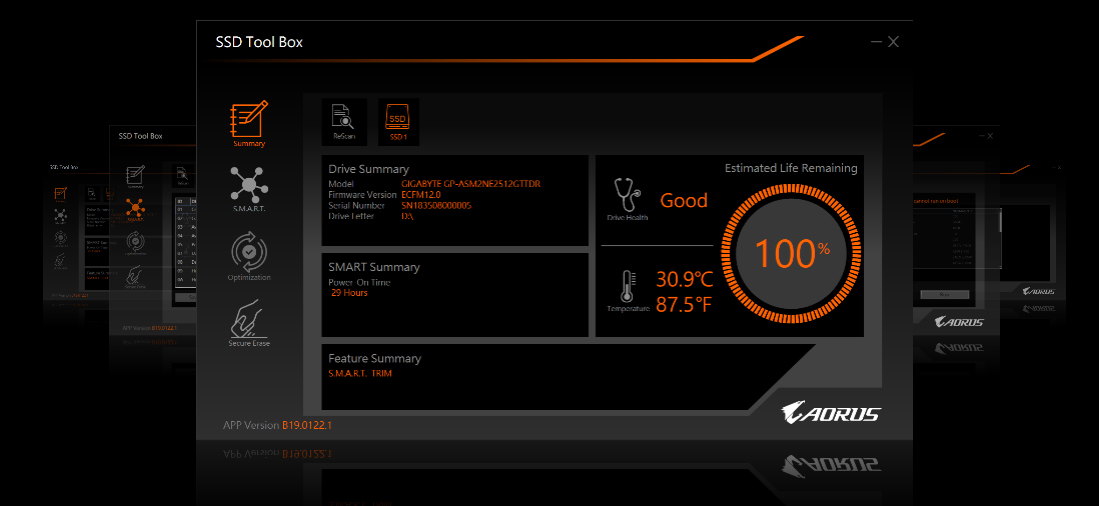 SSD tool box function may vary by model.
Quality Guaranteed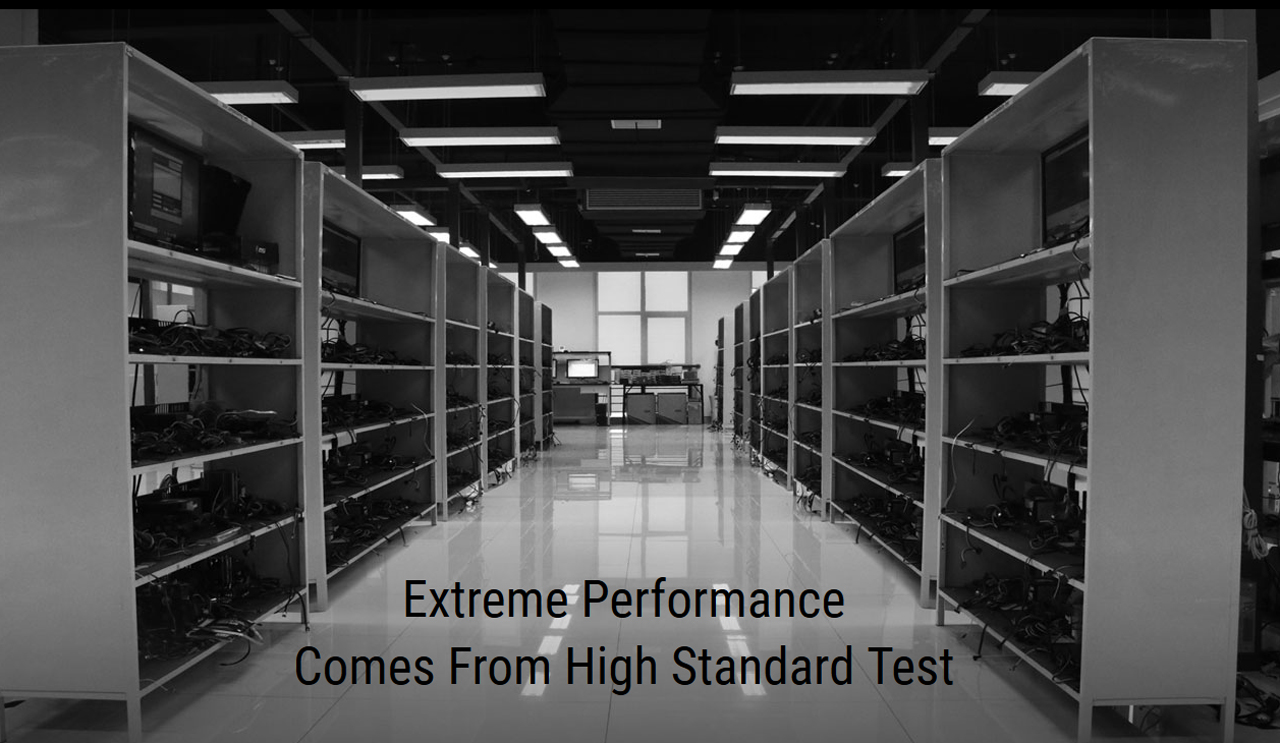 Composition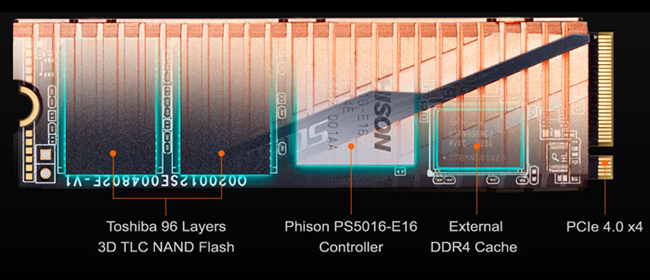 Dimension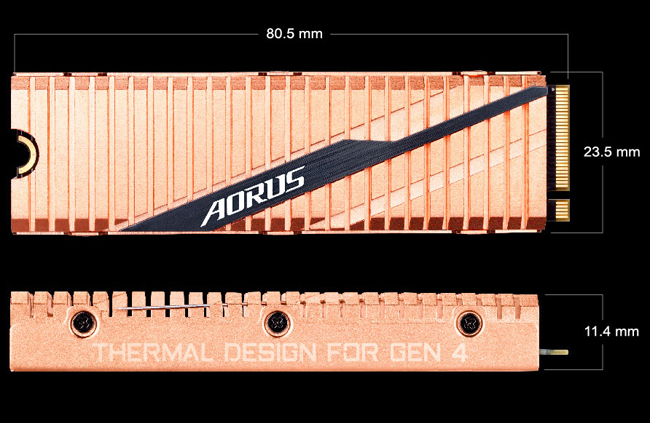 Capacity*
Model
Sequential Read MB/s**
Sequential Write MB/s**
Random Read IOPS**
Random Write IOPS**
1000GB
AORUS NVMe
Gen4 SSD 1TB
( GP-ASM2NE6100TTTD )
5,000MB/s
4,400MB/s
750k
700k
2,000GB
AORUS NVMe
Gen4 SSD 2TB
( GP-ASM2NE6200TTTD )
5,000MB/s
4,400MB/s
750k
700k
* Note: 1GB = 1 billion bytes. Real useable capacity may vary by models.
** Speeds based on internal testing. Real performance may vary by models.