Tt LCS Certified
Tt LCS Certified is a Thermaltake exclusive certification applied to only products that pass the design and hardcore enthusiasts standards that a true LCS chassis should be held to. The Tt LCS certification was created so that we at Thermaltake can designate to all power users which chassis' have been tested to be compatible with extreme liquid cooling configurations to ensure you get the best performance from the best features and fitment.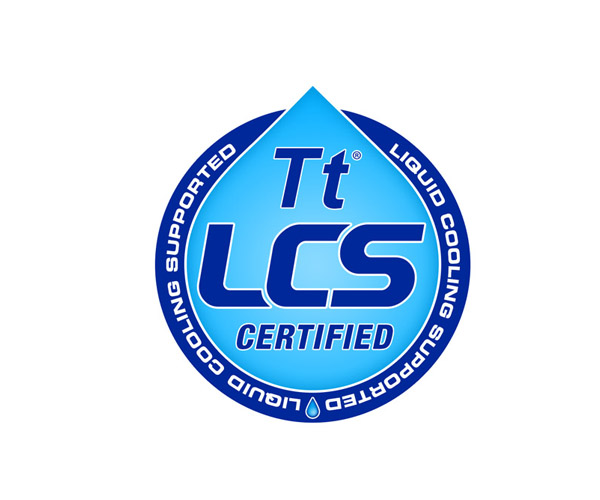 Pacific W4 ARGB CPU Water Block
Comes with a 16.8 million colors LED ring and 12 addressable single LEDs that can be controlled by the included ARGB controller and ready to sync with 5V RGB capable motherboards from Asus, Gigabyte, MSI and AsRock. W4 ARGB CPU Water Block features 0.15mm internal fin construction, a copper base with anti-corrosive nickel plating and high-quality PMMA cover, and a universal mounting mechanism that offers error-free as well as no-tools installation. Fits with most G1/4 fittings, it provides the ultimate in cooling performance, and delivers extreme compatibility for custom PC builders.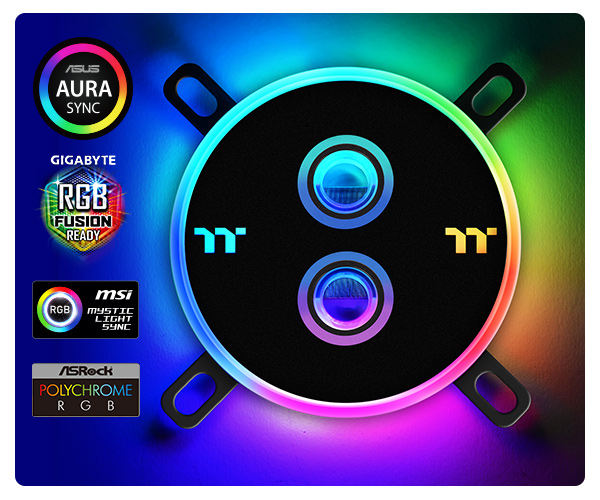 Pure 12 ARGB Sync Radiator Fan
Thermaltake Pure 12 ARGB Sync Radiator Fan TT Premium Edition features compression blades, hydraulic bearing, and a 16.8 million colors LED ring with 9 addressable LEDs that is ready to sync with 5V RGB capable motherboards from Asus, Gigabyte, MSI and AsRock. Users can easily switch RGB lighting effects using the ARGB controller that is included in the packet, or by ASUS Aura Sync, GIGABYTE RGB Fusion, MSI Mystic Light Sync and AsRock Polychrome software. Three Pure ARGB Sync Edition Fans and one ARGB controller are included in the pack.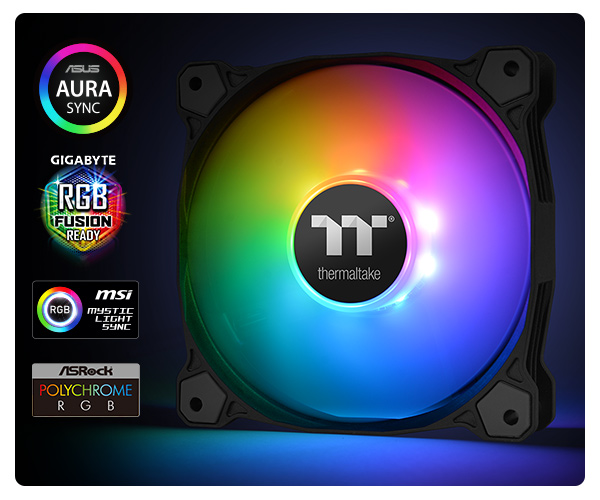 Thermaltake Pacific C360 Radiator
High-performance 360mm slim copper radiator with high-density copper fin design and brass tank. Built for 120mm high-static pressure fans, the radiator is manufactured from premium-quality materials that provide exceptional performance, unrivalled reliability. The unique stainless steel side panels guarantee the durability as well as reduce the weight of the radiator. Integrated G1/4″ threads make it easy to install, while rigid connections ensure leak-resistant measures are in place. With an ideal mounting, fitting and flow set-up.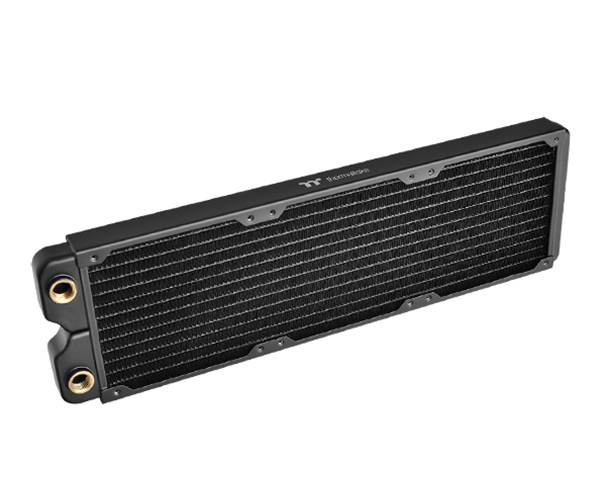 Pacific PR15-DDC Pump/Reservoir Combo
Manufactured from POM and PMMA, the unit includes a 200ml long reservoir with an integrated DDC pump, offering exceptional performance and unrivalled reliability for all gaming systems.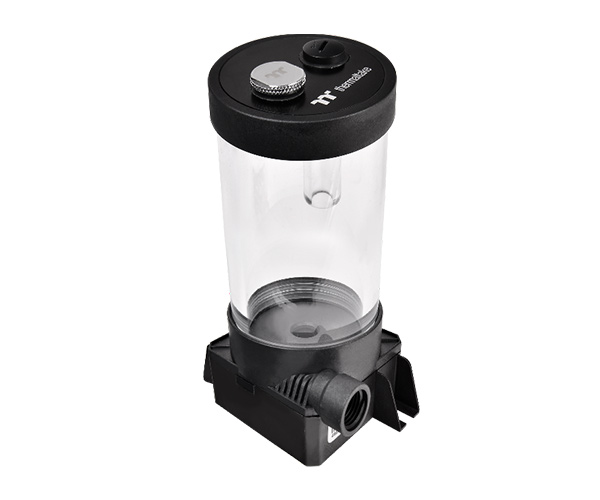 T1000 Transparent Coolant – Pure Clear
Thermaltake T1000 Transparent Coolant Series is designed with TT latest formula to be used as anti-corrosion protection fluid and heat-transfer medium for PC water-cooling. With transparent colors, T1000 allows users to create unique colors by adding TT Premium concentrate. The new formula provides T1000 Transparent Coolant Series with color stability and low viscosity that enables effective flow. Thermaltake T1000 Transparent Coolant Series encourages users to create your own colors for your system!
Pacific C-Pro G1/4 PETG Tube 16mm OD Compression Fitting – Black
Featuring chrome plating, the compression fitting comes with special four rubber O-rings leak-free design and patented structure for ultimate loop management. six compression fittings are included in the kit.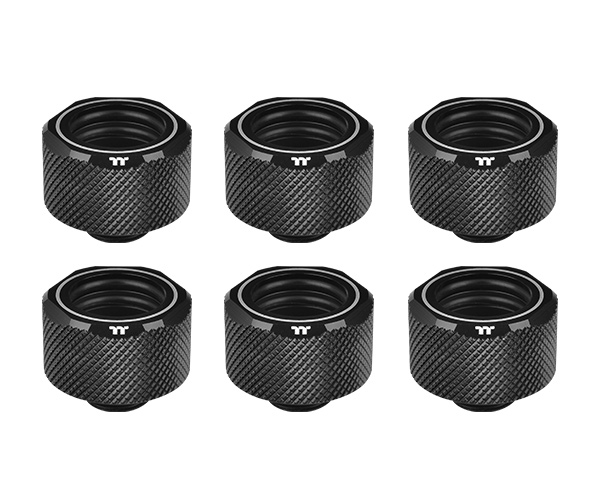 Pacific G1/4 90 Degree Adapter – Black
Finished in chrome-plated copper, the adapter fitting is in 360° revolve-able design, and consists of two sealed O-rings, allowing users to redirect the fittings at a 90 degree angle for easier tube routing. 2 adapter fittings are included in the kit.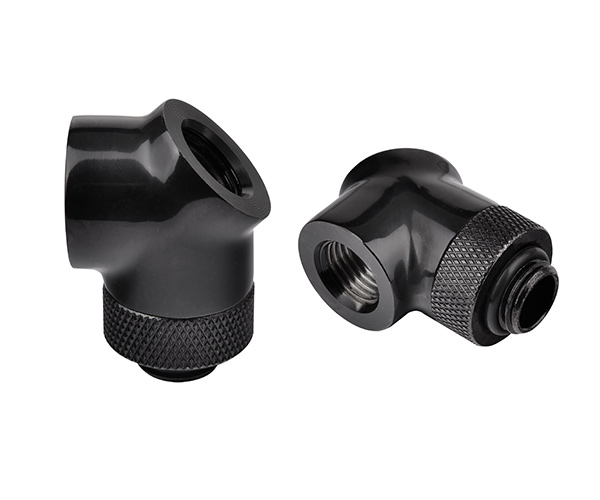 V-Tubler PETG Tube 5/8" (16mm) OD 500mm (8 Pack)
Manufactured from premium PETG, the rigid tubing provides custom PC water cooling configurations with reliability and durability from end to end.